e2Prevention
e2Prevention is a complete, integrated system for the collection, management and analysis of data for Prevention, PrEP and Drug User Health (DUH) programs. Patient PrEP data collected includes data on risk screening and PrEP eligibility, adherence to PrEP medication, encounters, acuity assessments, referrals, and attendance at scheduled medical visits (including labs). Data collection and management features also monitor and maintain drug user health, syringe service programs, effective behavioral intervention services (EBIs) at both the community level (CLIs) and the individual level. Naloxone distribution programs are also supported.
Improve data quality and reduce errors with built-in validations and data quality checks.
Reduce double data entry, freeing up resources for client engagement and care.
Reduce health disparities through e2QM's special populations filtering and other features.
Strengthen grant writing and funding acquisition through improved data completeness and integrity, as well as grant writing assistance from the software provider.
Respond rapidly to emerging community needs, empowered by real-time actionable data.
Minimize the time between reporting on and acting on data with real-time, graphical reports that can be exported to PDF and Excel to share with stakeholders.
Serve as a role model for the strategic use of QM data to help End the Epidemic, and illustrate the need to exceed goals and objectives.
Ensure data completeness and integrity with report drilldowns that take you directly to the client record.
Features
Agency Access and User Access
PrEP Navigation, Drug User Health, and EBI programs are located on separate tabs within the client record. Access to each program is dependent of the agency having a contract to provide services for that program. User access for case managers, PrEP Navigators, and medical personnel is governed by roles and permissions within each agency. Roles and permissions are also established for access by Department of Health staff.
e2Prevention PrEP Navigation
Users with appropriate roles and permissions can enter and view data relating to PrEP enrollment, utilizing an enrollment form. Client acuity assessment is performed with a questionnaire, which calculates and displays an acuity score for each section and a total for the questionnaire, enables users to view and select recommendations from a list, and allows users to view previously submitted acuity assessments. PrEP navigation also includes screens showing PrEP withdrawal, including date of withdrawal, HIV status, and whether the client was withdrawn by a clinician or by him/herself; Client PrEP risk assessment and eligibility screening records, including date of initial visit, services received, and creation of new risk assessment and eligibility screening records; PrEP encounter records, including encounter date, encounter type, and goal and outcome of the encounter; PrEP medical visit records, including visit date, whether the patient is a candidate for PrEP, is interested in PrEP, and received a prescription for PrEP, and date of the next clinical appointment; PrEP medication assistance, including data on the application or referral for assistance, the medication assistance program, eligibility, start date and expiration date; and non-PrEP referrals, including the referral type, agency referred to and date of the scheduled appointment. All these screens include tables which display data in in sortable, searchable columns.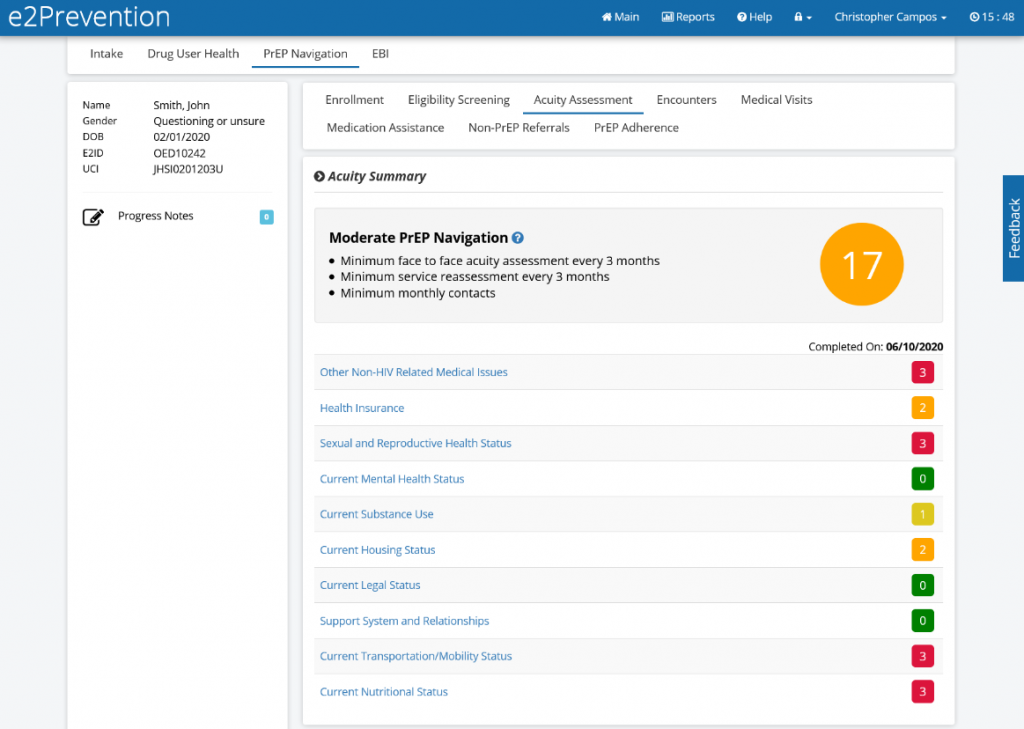 e2Prevention PrEP Cascade
The e2Prevention PrEP Cascade displays the entire PrEP care continuum in clear, easy-to-understand graphical format, and enables users to identify which clients have fallen into the gaps at each stage in the continuum. The following stages of the continuum are shown in the e2Prevention PrEP Cascade:
Total: the entirety of the client pool.
Vulnerable: clients that have found to have one or more HIV risk factors.
Interested: clients that have expressed interest in beginning pre-exposure prophylaxis treatment.
Linked: clients that have been referred to and linked to PrEP medical care.
Initiated: clients that have begun taking PrEP.
Retained: clients that have been attending all required appointments and medical visits related to PrEP medical care.
Adherence: clients that have been reported to be taking their PrEP medication as prescribed.
Aggregate client counts, as well as client counts broken down by HIV prevention program, will be shown in tables, along with a count of those clients that have been identified to have fallen into the gaps from one step to the next. Clicking on any client count will display a list of clients, allowing you to easily identify clients that need care.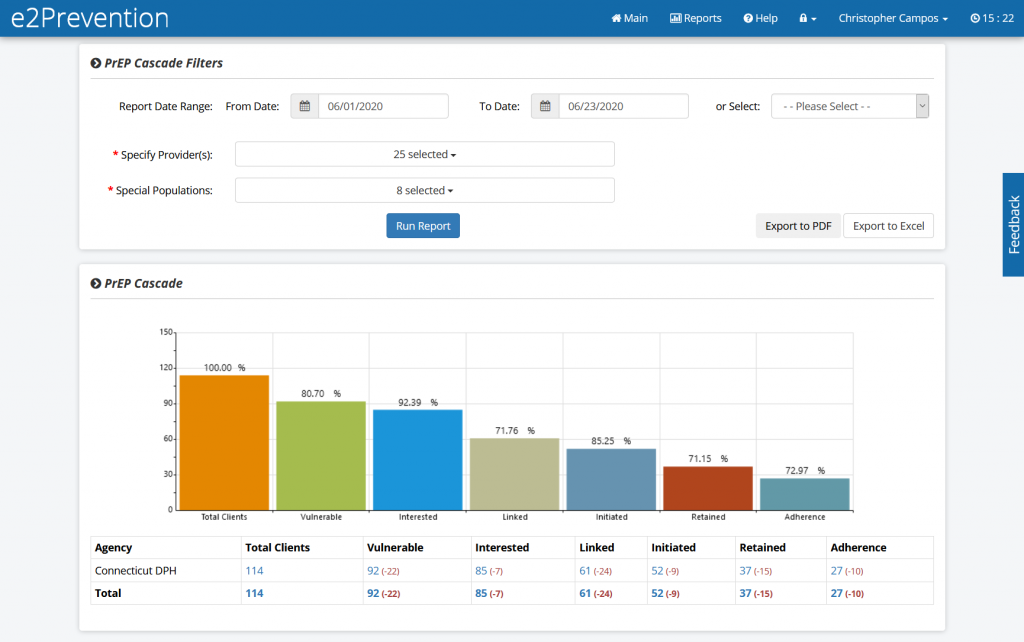 e2Prevention HIV Testing
e2Prevention allows storage of HIV Testing results directly within the system, without the need for external platforms. e2Prevention allows users to capture and view the following HIV Testing information:
Testing session
Program announcement
Agency and testing site information
Client information, whether the client has had an HIV test previously
Final test information
Additional co-infection test results
The client's level of PrEP awareness and use
Potential HIV risk factors
Essential support services screening results
All data will be displayed in tables, with data shown in sortable, searchable columns.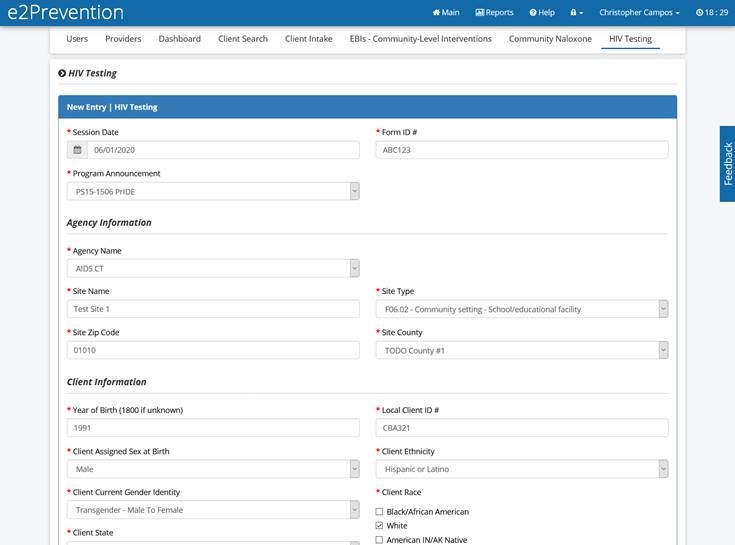 e2Prevention Drug User Health Management
DUH data can only be accessed by users from the agency that entered the data, and by authorized Department of Health staff. DUH Health Management includes DUH substance use records showing priority, substance, route type, frequency, and no longer using; DUH transaction records showing transaction date, location of transaction or service, and number of syringes dispensed and collected; and DUH Naloxone distribution records showing distribution date, supply details, reason for resupply, and quantity of Naloxone kits provided. All records are displayed in tables accessible from the patient record, with data shown in sortable, searchable columns.